Certified Information Privacy Manager (CIPM)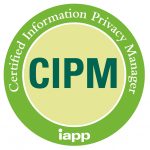 The "how" of privacy operations, and why you need it.
The CIPM is the world's first and only certification in privacy program management. When you earn a CIPM, it shows that you don't just know privacy regulations—you know how to make it work for your organization. In other words, you're the go-to person for day-to-day operations when it comes to privacy.
DATA IS ONE OF YOUR MOST VALUABLE ASSETS
MEET YOUR PRIVACY CHALLENGES HEAD ON WITH IAPP TRAINING
Every day it is being accessed, shared, managed and transferred by people in your organization—in all departments and at all levels. Unless your employees have a solid understanding of the considerations and challenges involved in managing data, you risk a data breach, diminished customer trust and possible enforcement action.
IAPP training can provide your staff with the knowledge they need to help you meet your privacy program goals of reduced risk, improved compliance, enhanced brand loyalty and more. The IAPP offers privacy and data protection training programs specifically designed to extend that knowledge to those on your team requiring a solid understanding of privacy principles and practices.
In order to help you drive privacy knowledge across your organization, our comprehensive and flexible programs can be suited to your specific needs and availability.
TOP 10 REASONS TO PURSUE YOUR CIPM
The CIPM shows your commitment to achieving the global industry standard in privacy program management.
You'll learn the skills to establish, maintain and manage a privacy program across all stages of its operationallifecycle.
The CIPM designation is the mark of a privacy leader. It recognizes that pros like you drive the culture of privacywithin your organizations.
Holding a CIPM designation elevates your leadership profile amongst your colleagues.
You'll feel confident that you have the necessary tools and knowledge to propel your privacy program and addvalue across your organization in both the public and private sectors.
You'll bridge silos between management, marketing, legal, compliance, IT and other partners—because you'llshare their language and knowledge base.
CIPM certification is a key benchmark among top employers for hiring and promoting privacy professionals.
The CIPM credential opens the door to higher earning potential and opportunities for promotion.
You'll gain access to the world's largest community of privacy professionals, including valuable educationalresources and networking opportunities.
You'll hold a new level of influence in your organization. Privacy incidents? Not on your watch.
SKILLED DATA PROTECTION PROS ARE IN HIGH DEMAND.
By investing in your staff with this globally recognised IAPP training, you'll give them the knowledge to make better decisions in their everyday work, which is fundamental to the success of your privacy programme.
We can help you get the knowledge and skills you need to get ahead.