Certified Information Privacy Professional/Europe (CIPP/E)
THE GLOBAL GOLD STANDARD IN EUROPEAN DATA PROTECTION CERTIFICATION.
This two-day training encompasses pan-European and national data protection laws, key data protection terminology and practical concepts concerning the protection of personal data and trans-border data flows.
The CIPP/E program was developed by the International Association of Privacy Professionals (IAPP), which is the world's largest comprehensive global information privacy community and resource. The CIPP/E certification holds accreditation under ISO 17024: 2012.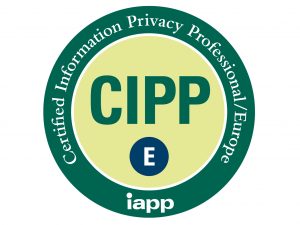 Achieving a CIPP/E credential shows you have the comprehensive GDPR knowledge, perspective and understanding to ensure compliance and data protection success in Europe—and to take advantage of the career opportunity this sweeping legislation represents.
The Certified Information Privacy Manager (CIPM) credential provides the practical day-to-day information to lead an organisation's data protection programme.
Adding the CIPM to your CIPP/E puts you at the forefront of ensuring you are ready for the GDPR.
.
CIPP CERTIFICATION
PUTTING PRIVACY LAW AND POLICY TO WORK
The IAPP offers the most encompassing, up-to-date and sought-after global training and certification program for privacy and data protection. The Certified Information Privacy Professional (CIPP) helps organizations around the world bolster compliance and risk mitigation practices, and arms practitioners with the insight needed to add more value to their businesses.
WHAT CAN THE CIPP DO FOR YOU?
It will show the world that you know privacy laws and regulations and how to apply them, and that you know how to secure your place in the information economy. When you earn a CIPP credential, it means you've gained a foundational understanding of broad global concepts of privacy and data protection law and practice, including: jurisdictional laws, regulations and enforcement models; essential privacy concepts and principals; legal requirements for handling and transferring data and more.
CERTIFIED INFORMATION PRIVACY PROFESSIONAL
THE "WHAT" OF PRIVACY, AND WHY YOU NEED IT.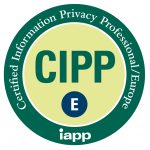 For more than 10 years, the CIPP has been recognized as the world's preeminent credential in the business of privacy. Since its introduction in 2004, the CIPP has elevated the careers of thousands of professionals working in privacy and data protection across the globe.
There are four CIPP concentrations, each focused on a specific region. Learn more about them and see for yourself why the CIPP is the privacy industry's leading credential.
– Europe (CIPP/E)
– U.S. private-sector (CIPP/US)
– Asia (CIPP/A)
– Canada (CIPP/C)
CLASSROOM TRAINING
PRIVACY'S PREMIER EUROPEAN DATA PROTECTION CERTIFICATION
This training is a robust, interactive opportunity to learn about critical privacy concepts that are also integral to the CIPP/E exam. While not purely a "test prep" course, this training is appropriate for professionals who plan to certify, as well for those who want to deepen their privacy knowledge. Both the training and the exam are based on the same body of knowledge.
WHAT YOU'LL LEARN
Introduction to European Data Protection
European Regulatory Institutions
Legislative Framework
Compliance with European Data Protection Law and Regulation
International Data Transfers
COURSE MODULES
THE PROGRAM IS BROKEN INTO ELEVEN MODULES:
Module 1: Data Protection Laws
Introduces key European data protection laws and regulatory bodies, describing the evolution toward a Harmonised European Legislative Framework.
Module 2: Personal Data
Defines and differentiates between types of data-including personal, anonymous, pseudo-anonymous and special categories.
Module 3: Controllers and Processors
Describes the roles and relationships of controllers and processors.
Module 4: Processing Personal Data
Defines data processing and GDPR processing principles, Explains the application of the GDPR and outlines the legitimate bases for processing personal data.
Module 5: Information provision
Explains controller obligations for providing information about data processing activities to data subjects and Supervisory Authorities.
Module 6: Data Subjects 'Rights
Describes data subjects' rights, applications of rights and obligations controller and processor.
Module 7: Security or Processing
Discusses considerations and duties of controllers and processors for Ensuring security of personal data and providing notification of data breaches.
Module 8: Accountability
Investigates accountability requirements, data protection management systems, data protection impact assessments, privacy policies and the role of the data protection officer.
Module 9: International Data Transfers
Outlines options and obligations for transferring data outside the European Economic Area, Decisions adequacy and appropriateness safeguards and derogations.
Module 10: Super Visions and Enforcement
Describes the role, powers and procedures or Supervisory Authorities; the composition and tasks of the European Data Protection Board; the role of the European Data Protection Supervisor; and remedies, liabilities and penalties for non-compliance.
Module 11: Compliance
Discusses the applications of European data protection law, legal bases and compliance requirements for processing personal data in practice, employers-including processing employee data, surveillance, direct marketing, Internet technology and communications and outsourcing.
WHO SHOULD ATTEND?
Data Protection Lawyers
Records Managers
Information Officers
Compliance Officers
Human Resource Officers
Anyone who uses, processes and maintains personal data
TRAINING & ZERTIFIZIERUNG
inkl. Training, Prüfungsgebühr, Mitgliedschaft
1-jährige IAPP-Mitgliedschaft
Beispielfragen für Zertifizierungsprüfung
Prüfungsvoucher (Pearson VUE Testcenter)
Kaffeepausen, Mittagessen und Seminargetränke
EUR 1.990,00
exkl. 20% USt.
TRAINING ONLY
inkl. Training, Mitgliedschaft
1-jährige IAPP-Mitgliedschaft
Kaffeepausen, Mittagessen und Seminargetränke
EUR 1.490,00
exkl. 20% USt.